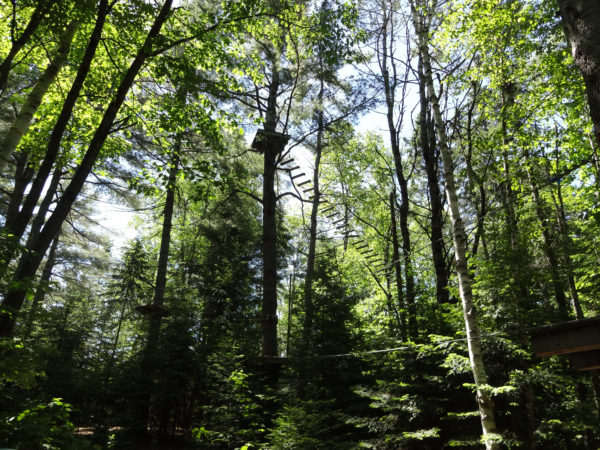 Get ready for lots of great sensations and emotions with Arbraska. This tree-climbing adventure is not for the faint of heart. Arbraska is becoming more and more popular and counts 5 zipline parks in Quebec and 5 in Ontario. We went to the Rawdon spot, closest to Montreal, and had a blast!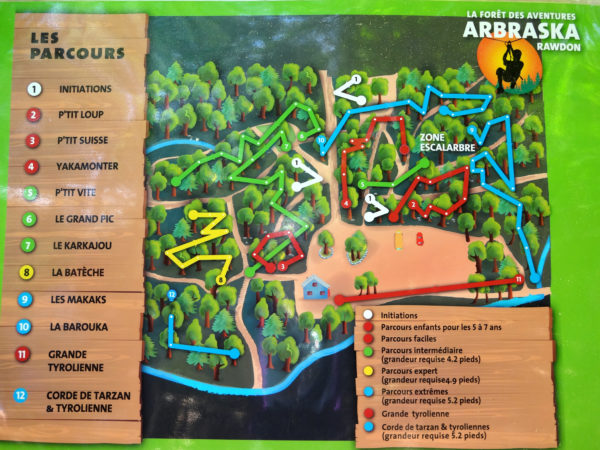 Here is a map of the place: in the middle of the forest, with a small water stream among ferns and huge pine trees and maples. The blue trails are the highest, most challenging, and frightening! We suggest to start with the green trails: intermediary!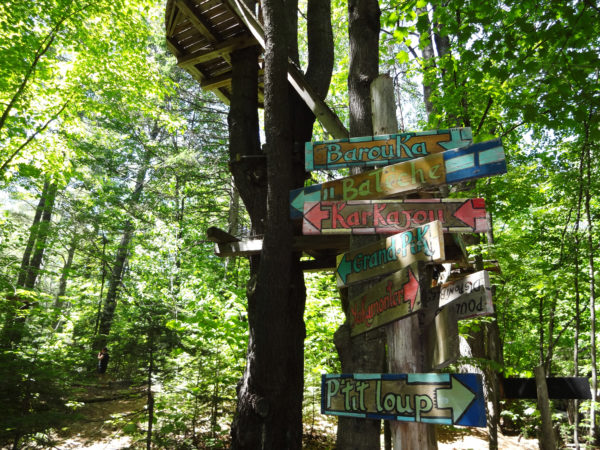 As we arrived, we were given the helmets and the safety harnesses. Then, we had a little initiation crash course of 10 minutes to learn how to attach the harnesses and were ready to go. It's very free at Arbraska: you walk around in the forest, choose the kind of trail you want to take and start climbing on the structures!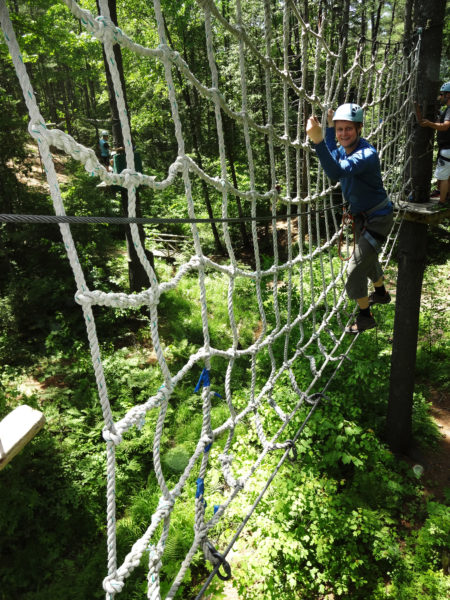 At our first trail, we had to climb over many ropes and walk on constantly moving shallow wooden bridges, attached between the trees.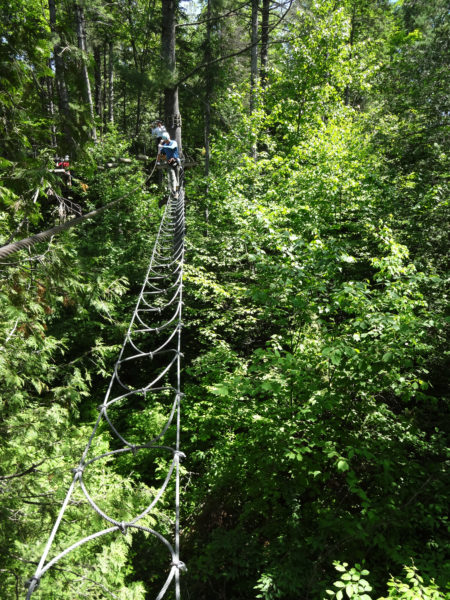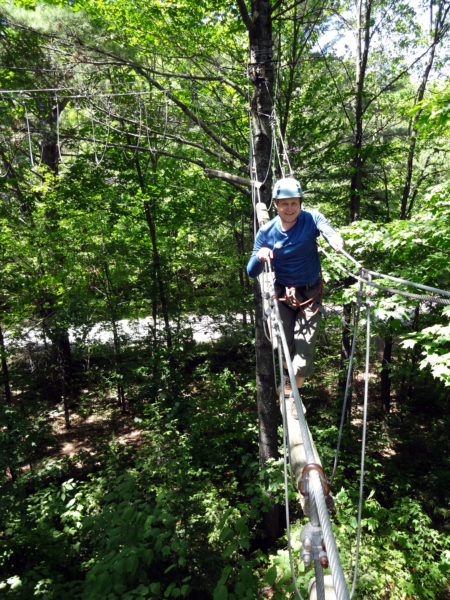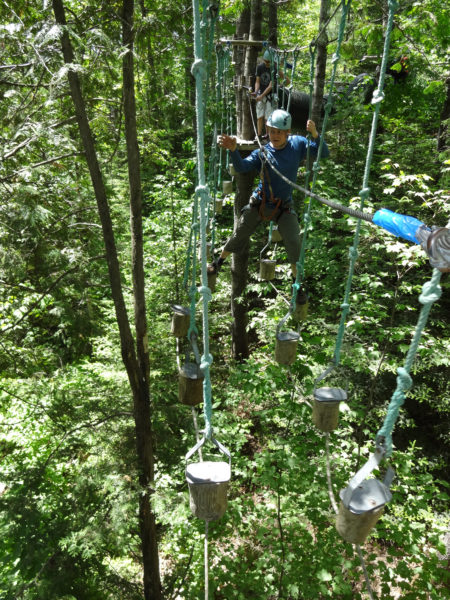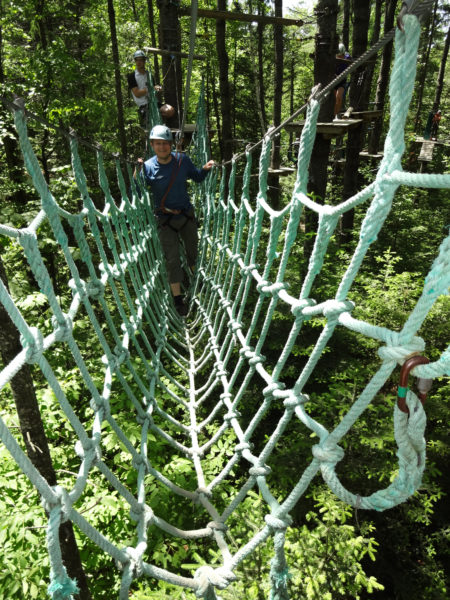 Plenty of people, young and old, came that day, but there was enough space for everyone, so we didn't have to wait in lines to climb on the structures, it was fantastic.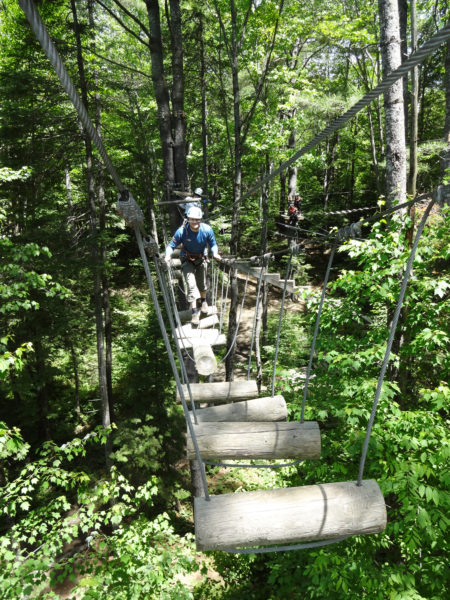 After we have done all the intermediary trails, we decided to try the EXTREME!
It was a steep climb to more than 10 meters above ground on huge pine trees. As we were climbing higher and higher to start this challenge, we were far to imagine what lay ahead!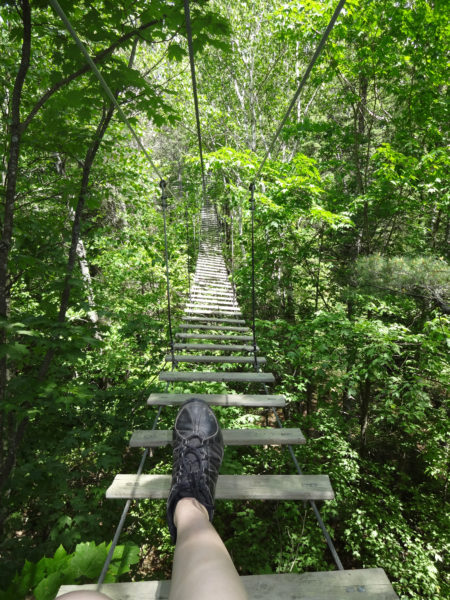 After several wooden bridges and zip lines, we faced the ultimate frightening experience: the only 2-ropes long trail. (Photo below) In addition of moving all the time, it was at an angle, going higher, and there was no way to back up.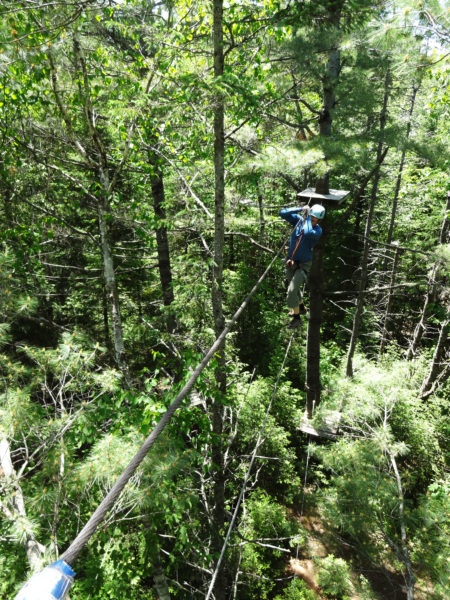 We can very well remember how we were climbing on trees when we were young, but here, you meet a much higher level of fun (and more security). The ziplining experience is also very special: at first a bit frightening, but oh so exciting!

See our video here!




Don't be surprised though to have plenty of bruises on your arms after this experience, as you will grab the ropes and cables and sometimes hit yourself at the zipline landings. We also recommend to ask for special gloves at the Welcome center there or bring your own.
For more information, check here for Arbraska!